If you were to look at my top albums of the past year on
last.fm
, you'd find some quite old albums on there. All of it is 80's and 90's music, but I couldn't call it nostalgia because 1. I'm only 21 and 2. This was my first time hearing them. I'd call it more looking back on musicians and albums that inspired some of my current favorite artists. Here are some old, but good albums to check out if you haven't already.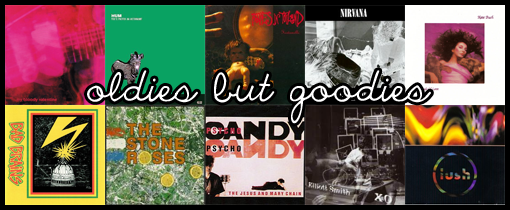 My Bloody Valentine - Loveless (1991):
A lovely shoegaze classic that certainly inspired Ringo Deathstarr. Fav track:
Only Shallow
Hum - You'd Prefer an Astronaut (1995):
Chino Moreno of Deftones himself said that his band was inspired by this extremely underrated, space-themed alternative rock album. Fav track:
The Pod
Babes In Toyland - Fontanelle (1992):
Some awesome early 90's hard rock made by angry chicks who are not to be confused with riot grrls. Teri Gender Bender of Le Butcherettes can surely relate to it. Fav track:
Handsome & Gretel
Nirvana - Bleach (1989):
What rock band hasn't been inspired by seminal grunge band Nirvana? Early Muse is one of them. This was Nirvana's first album before they got huge, but I think it's got some great rawness and intensity to it. Fav track:
About A Girl
Kate Bush - Hounds of Love (1985):
This British songstress always had a flair for the quirky and dramatic, but she also had an innocence here that is heard in Florence + the Machine's Lungs album. Fav track:
Cloudbusting
Bad Brains - Bad Brains (1982):
Classic 80's punk (with a side of reggae) album that also helped shape Chino Moreno's singing and screaming style. Fav track:
Sailin' On
The Stone Roses - The Stone Roses (1989):
A critically acclaimed alternative rock album with beautiful and catchy melodies throughout. Although they only came out with one more album, their sound can be heard in Oasis' music. Fav track:
Made of Stone
The Jesus And Mary Chain - Psychocandy (1985):
The Stone Roses were also influenced by this band. Some distortion-heavy punk music with some pop sensibilities that helped create Ringo Deathstarr. Fav track:
Just Like Honey
Elliott Smith - XO (1998):
A brilliant musician who left us far too soon made this bittersweet and achingly beautiful album. Silversun Pickups are said to be inspired by him. Fav track:
Bottle Up & Explode!
Lush - Gala (1990):
A dream pop album with a sunny side that Ringo Deathstarr are sure to love. Fav track:
Hey Hey Helen