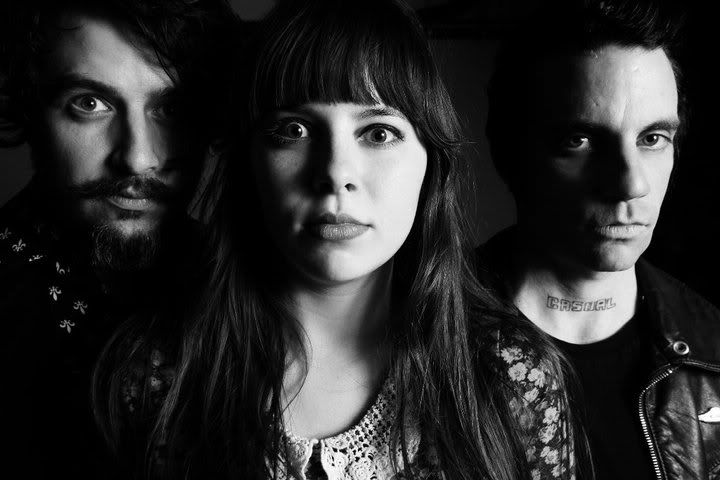 "You take my dress off, yeah you take my dress off, yeah you take my pretty dress off!" If you think that lyric would be a come-on, you'd be wrong. Coming from Teri Gender Bender it's a threat. Introducing one of my new favorite bands from this year, Le Butcherettes. They're a Mexican garage rock group (but they sing in English for now). They've opened for bands like Yeah Yeah Yeahs, The Dead Weather, Deftones, Queens of the Stone Age, The Flaming Lips and most recently Iggy and the Stooges.
I saw them open for Deftones on June 4th in Austin. While I was not initially blown away by the songs themselves, the music sounded good and I was quite intrigued with their lead singer/guitarist/keyboardist, Teresa Suarez aka Teri Gender Bender, who wore a bloody apron over her dress and performed like there was a constant fire under her ass. She had this energy and intensity about her that I liked. Her passionate and unpredictable performance is exactly what I look for in a live show setting. Simply put, Teri is a nutcase and I love it. Upon listening to their album the next day and watching some interviews, I began to see what she was all about and found that I actually have things in common with her. She insists that off stage she is very shy and a "pushover," something I can definitely identify with. I love that she can completely shut that side off when she is on stage. I'd love to be able to be that honest with people.
"I've always been a firm believer in expressing yourself to the fullest. Some days I might be tired, other days I might be sick but I always try my hardest to relieve myself from passive aggressiveness especially when I am playing. I've been teaching myself to be good to others no matter how I feel, even when people don't deserve anything from me I still give. People can take advantage of that because I am such a pushover. I'm working on that. On stage I take that shit out. I take it out and expose myself in a lot of ways. Dangerous ways and personal ways."
The band originally consisted of Teri and Auryn Jolene and they took more of a feminist approach to their music. Early live shows included the duo dressed as 50's housewives to emphasize the stereotypical woman, and Teri played with raw meat, eggs and blood on stage. Their first release was an EP called Kiss & Kill. While that EP has a certain raw energy to it, it does have a slight immature feel that I don't like as well as the new album, Sin Sin Sin. Omar Rodriguez Lopez (of the prog rock band The Mars Volta whom I'm quite a fan of) took notice of them and produced the record- it's a great debut. The band now consists of Gabe Serbian (of The Locust) on drums and Jonathan Hitschke (of Hella) on bass. The feminist theme is still in there, but lyrically it's a lot more expansive, mature, clever, and also quite humorous at times. The songs themselves are still quite simple, but more developed. I also like the variety on the album- I would say almost no two songs sound the same, which with my limited knowledge of garage rock, seems to be a little rare. The keyboard is a great addition to the songs and gives them a different feel, such as the foot stomping opener Tonight and the cabaret-style The Actress That Ate Rosseau. I also must praise Teri's awesomely versatile voice- I think it's a great asset to her. Her voice can depict a feeling of vulnerability one minute (The Leibniz Language) and be completely in command the next (New York, Dress Off). She can also take on songs with a more pop sensibility with ease, as seen on the extremely catchy Henry Don't Got Love, one of my favorites from the record. Other standouts are I'm Getting Sick of You and Dress Off, the latter which only contains drums and Teri's vocals and is probably the song with the closest energy to the band's live performance. Though, I can honestly say I love every song except for the closer Mr. Tolstoi- the Russian-sounding beat is a little too annoying to me most of the time. Overall, I highly recommend you listen to this album if any of the above sounds the least bit interesting to you. If I haven't persuaded you, then I'll let Teri do it herself. Check out the awesome music video for Henry Don't Got Love below. And hopefully
this
will persuade you to see them in concert as well, because it's quite an experience you won't soon forget.
"I don't want to yell my whole life. I want to express myself in a darker way now. I don't want to use feminism anymore because I was let down by the non- existent movement. I want feminism to use ME as an example instead. I won't let the movement down because I am not a movement, I am an individual. I just have to be myself and work on art with the purest of intentions. Sin Sin Sin was made to free me of my "so-called sins" laid on my mind in a machismo country which has so many strong and unfearing women and men. I am not afraid. This album is for the men and women that are fed guilt mixed with hatred for not marrying young, for thinking of themselves before others, for trying to see life differently."